How to find the perfect underwear for summer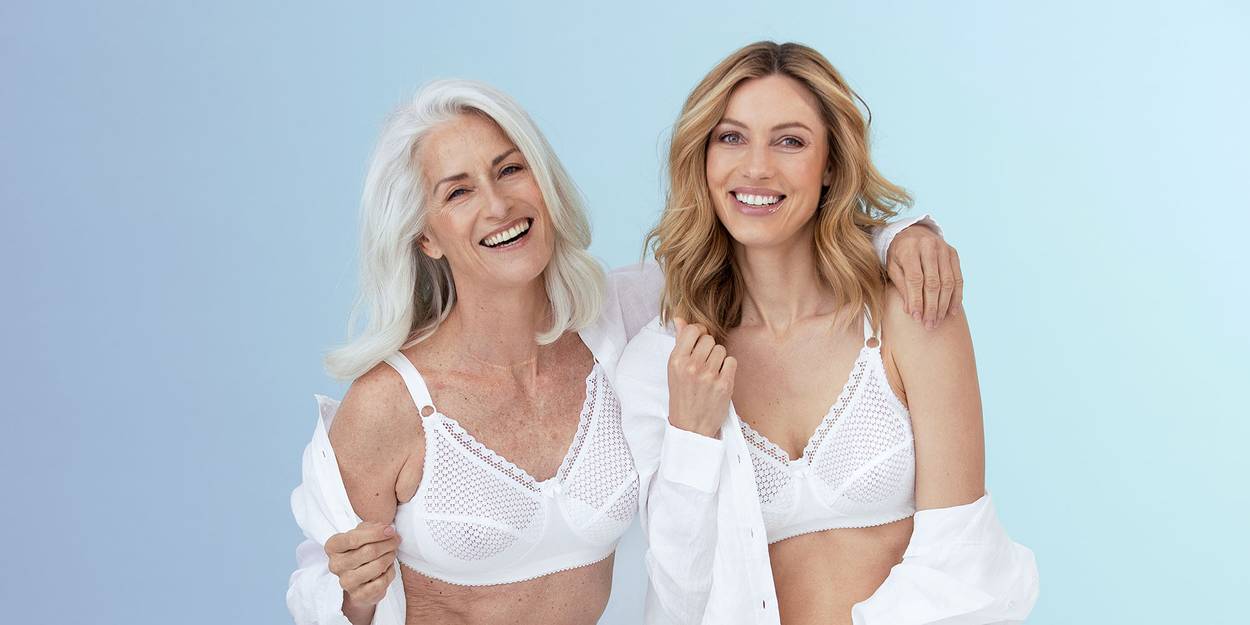 On hot days, we prefer to wear underwear made from breathable, cool-feeling materials. Natural materials are an obvious favourite of ours, but did you know that there are also synthetic fibres designed to be breathable and cool the skin? Here are our top 3 tips on how to prepare your underwear wardrobe for summer.
The natural feeling of cotton
No material says summer, sun, wind and water like cotton. Miss Mary has been known as a specialist in cotton for many years, so naturally our range includes a large number of cotton bras. They're always in demand amongst our customers. Our Top 5 bestsellers almost always feature at least 2-3 cotton bras.
Pictured above is one of our cotton favourites BRODERIE ANGLAISE in beige, dusty blue and white.
One of the main advantages of cotton is its breathability. Cotton feels cooler than most other materials because the fibres conduct heat away from the skin. In other words, it's perfect for hot summer days. If you're wearing a T-shirt over a cotton bra, your skin will easily breathe through both garments and feel much cooler than if you were wearing, for example, a polyester blouse over a cotton bra.
Pictured above is the cotton bra Lovely Lace Support.
Cotton is also easy to care for and hard-wearing, so it can be washed many times without losing its shape or quality.
Find our cotton range here
Keep Fresh – For an active life
Keep Fresh is a material with unbeatable qualities that we use in a number of our best-selling bras including STAY FRESH and EXHALE. When you think of technical fabrics it might be sportswear or outdoor clothing that first comes to mind, but these materials are also ideal for a technical garment like a bra. It's flexible and pliable and comes in a variety of thicknesses.
The EXHALE underwired sports bra is made from the Keep Fresh material.
It's a breathable and moisture-wicking material, so it stays dry even when you sweat. That means you'll stay feeling cool and dry throughout the day. The fabric doesn't trap body odour and other smells, even if you're warm or sweating, and is also resistant to stains.
The material has been tested against bacteria and is 100% antibacterial.
The T-shirt bra STAY FRESH has a back, sides, side wings and cups made from the Keep Fresh technical fabric.
WinCool cools the skin … really
Last but not least is WinCool, one of the most amazing materials we know at Miss Mary and one that we use in our COOL SENSATION garments. This unique material contains patented technology that according to testing cools the skin by an average of 1-2°C! This is achieved by mixing cooling minerals into the textile fibres, and because it's done at the fibre level, the effect is permanent and won't disappear in the wash.
The material WinCool lowers the temperature of the skin thanks to cooling minerals mixed with the textile fibres.
Although it reduces the temperature of the skin to some degree, the WinCool fabric doesn't feel cold when you put it on, just slightly cooler. Its moisture-wicking properties keep the fabric and your skin dry. The garments are very soft, comfortable and supple. As they are semi-transparent, we only recommend using them as underwear or an alternative to sleepwear.
For those who suffer from chafing around the thigh area, a very common problem, COOL SENSATION makes this a thing of the past. It was with this condition in mind that we developed a version with an extra-long leg. WinCool is also hard-wearing and doesn't bobble.
WinCool contains no harmful substances and is 100% safe for human use. Just like all the materials we use at Miss Mary, WinCool is rated Standard 100 by Oeko Tex, an independent global testing institute that verifies that textiles contain no harmful substances.
You can't go wrong with Miss Mary's favourite summer fabrics, cotton, Keep Fresh and WinCool. Should you find yourself feeling a little chilly rather than too warm, we recommend a bodysuit that provides a more snug and blanket-like feel. As the saying goes, there's no such thing as bad weather, only bad clothes.