Side wings – The small detail that makes a big difference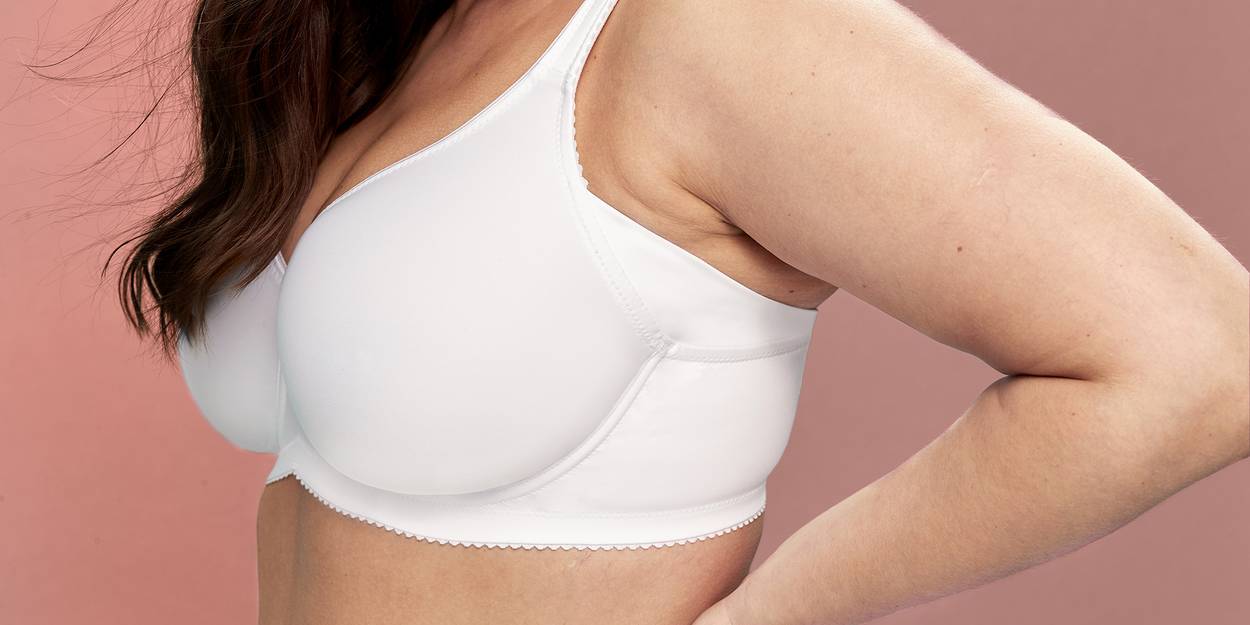 Side wings are a small extra piece of fabric under the armpits that make a bra neater and more comfortable. Here are three reasons why it's worth investing in a bra with side wings.
The smoothing factor
Loose skin and a more pronounced muffin effect are completely natural. After the menopause, breast tissue turns into softer fatty tissue and skin naturally becomes looser. That's why sleeveless, tight-fitting garments such as bras, camisoles and bodies don't always look completely smooth when you wear them.
Over the years, we often received requests from customers telling us that they didn't like the appearance of loose skin or a muffin effect at the edge of their bra and asking if there was anything we could do about it. We listened and thought and then we came up with the idea of side wings. They've now been in our range for several years and are a popular feature among our functional bras.
The comfort factor
Aside from looks, side wings have other advantages such as improving the comfort of a bra. There's probably nothing worse to wear than shoes that are too small or an ill-fitting bra that chafes.
When developing the fit of our garments, we focus on and prioritise comfort. If you're a little curvier and wear a large band size, the transition from bra to skin will never be perfectly smooth as the band around the body needs to be tight enough to provide proper support. There's then a risk that the bra will feel like it's cutting in, in some places even if you're wearing the correct size. A bra with side wings can help reduce this, providing a softer transition and thereby increased comfort.
If you wear an underwired bra that has a high cut at the sides to provide extra support, you may sometimes feel the ends of the underwire, particularly if you have a curvier figure. If you have sensitive skin, this can be uncomfortable. With side wings, this sensation is immediately reduced and your bra will feel more comfortable
The protective factor
The third reason is that side wings protect your clothes from deodorant stains. Many women, especially those who've had some form of cancer, prefer to use deodorants that are aluminium free and don't contain antiperspirants that block the sweat glands. This means your body still sweats but there's no odour. A bra with side wings will trap the moisture that would otherwise be absorbed by your sweater or blouse. This way you avoid visible sweat stains.
For this reason, we highly recommend our STAY FRESH underwired bra and KEEP FRESH non-wired bra. Both models have side wings made from a functional material that always feels dry even when exposed to moisture.
When do side wings not work?
Are side wings for you? Every body is unique. The same bra will fit differently on different bodies, even those that are the same size. On bras with side wings the side will naturally be cut higher under the arms, and if you are shorter, have a fuller chest or an extra high bust, you may sometimes find that these bras feel a little too high under the arm. However, on most people side wings should fit comfortably.
If you're having trouble deciding which model of bra best suits your needs, don't hesitate to get in touch and our friendly customer advisors will help you find the right one. No question is too small, too strange or too stupid.